The financial advice industry can be consumed by negative and never-ending debates, but here are 10 things clients care more about.
The financial advice industry can be consumed by negative and never-ending debates, but here are 10 things clients care more about.
The financial planning industry has come a long way from its early origins as a product distribution industry. Just over a decade ago, you could label yourself a financial planner if you were a financial product specialist. There was a lot of "financial" content in the client conversation but not enough "planning" content. The deliberate or inadvertent misleading of the value proposition was unavoidable.

Things have changed dramatically, albeit less as a result of self-regulation and embracing of professional standards, and more as a result of scandals, negative media coverage and punitive actions taken by the regulators.

Whatever the case, past is the past and the future of financial planning looks exciting to me.

I remain undeterred by the negative coverage and the never-ending industry debates around independent versus institutionally aligned, active versus passive investing, extensive product choice versus vertical integration or CFP versus FChFP designations.

Why do I feel positive amidst the noise and optimistic about the future of financial planning?

Maybe because deep down I believe that clients don't care about any of this.

In my experience, this is what the clients care about:

"1. I am comfortable that you (the adviser) know me, my personal situation, my goals, objectives, values, dreams, aspirations, concerns and fears
2. I feel confident that you now have a total grasp of my financial situation (especially the parts that relate to the advice that you will be providing)
3. I am aware of the financial issues that I have, even though I may not have been aware of these issues prior to meeting you
4. I like that my planning starts with me, my situation, my goals, my objectives and the right strategies
5. I like the fact that the conversation did not revolve heavily around product
6. I feel more confident that you took the time to explain financial concepts that are relevant to me in a simple and easy to understand manner
7. I now understand the importance of the right behaviours and it being the most critical determinant of my financial success, even more so than products or even strategies
8. I like the fact that you have shown me what is possible and what outcomes I can reasonably expect from your advice and how they will help me with the dreams and aspirations that we discussed when we first met
9. I feel more certain about the future knowing that you will be there to assist me keep on top of my progress, keeping me on track to achieving my desires and prevent me from making the common mistakes
10. I feel more confident because now I understand better

I think it's great that you as my financial adviser are experienced, qualified, knowledgeable and across all the products, rules and legislation, but you really had me on the top ten points."
---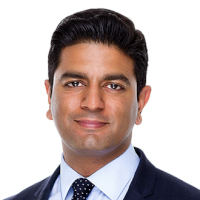 Ron is a practising financial adviser and the managing director of Maple Tree Wealth Management Pty Ltd. Ron has over 15 years' experience in the financial services industry including financial planning, funds management, private banking, commercial banking, superannuation administration and lending.
Ron has an Advanced Diploma in Financial Planning, A Post-Graduate Certificate in Business and a MBA. He holds the AFP designation through the FPA and the Associate Chartered Financial Practitioner with the AFA.
SUBSCRIBE TO THE IFA DAILY BULLETIN