An online press room is a good way for smaller advice firms to gain media exposure and differentiate from the fray.

An online press room is a good way for smaller advice firms to gain media exposure and differentiate from the fray.
Online press rooms are an important tool used by larger AFSLs and institutions to improve media access. Smaller dealer groups can also compete for media coverage by also developing a press room as part of their proactive campaign.

Research shows that online press rooms are amongst the most highly visited parts of a website. It's important to remember that editors and journalists often need information or are writing at times when you or your PR representative might not be available (e.g. late at night or over the weekend) and this is when your online press room becomes an invaluable resource.

From a consumer perspective, people are often more interested in what you say and what you have published, rather than the shiny brochure which is purely designed to sell your services, not the real you, to them.
A well-structured online press room will enhance the understanding of your expertise and what you can offer both media and its audience of consumers.
Here are ten top tips to creating an effective online press room to help maximise your media coverage.
1. Make it easy to find

Don't hide your press room. Many companies hide their press room layers under the 'About Us' or 'Company Info' menu tabs but in order to maximise the exposure your press room receives it's best to include a direct link from the homepage.
2. Make it comprehensive and current

Your press releases and company announcements should be listed in chronological order and be kept up-to-date. Don't delete any dates from previously released information and don't delete any older releases from your site – simply archive them.
3. Have the correct contact details

You need to be responsive when it comes to any incoming PR queries, so it is essential that your contact information is correct. If you have multiple regions, you need to include contacts for each one. Plus, if you have changed PR firms, ensure that all your older releases are also updated with the new contact details.
4. Give the media what they need

Your online press room should serve as a hub for all the relevant information a media contact might need to provide you with media coverage. Providing quick links to relevant information such as logos, recent articles and a list of spokespeople will be helpful.
5. It's about more than words

Effective content is not limited to words or press releases. Including relevant charts, graphs, audio feeds, photographs and visual clips in your online press room will enable media contacts to utilise a mixture of content that best suits their needs.
6. List your spokespeople

It's important to list your organisation's spokespeople in your online press room so media contacts know who they can speak to regarding certain issues or a specific story. Ensure that you include a short bio and any other relevant information.
7. Structure it well

Don't cram everything into a single page or make it hard for media to find what they need. Structure your online press room so it's easy to navigate with separate sections.
8. Offer a sign-up option

Offering media the option of an e-newsletter sign-up within your online press room makes it easier for you to push information out to them on a regular basis.
9. Be accessible

Asking for information from vistitors will not only make them view you as inaccessible and cagey, but chances are, they will not visit your press room again.
10. Make your content editable

Media often needs to easily cut and paste from your press releases, information sheets and more so post them as text onto your web page. Don't load them as locked PDFs.
So, if you build it, will they come? Yes, media will access your information if it is useful and your SEO is well structured to drive traffic to your site. Potential clients will also use your press room if it provides them with helpful and informative content on current issues, topics and your offering.
This article was co-written by Susan Popovski, director, SP Communications
---
About Chris Hocking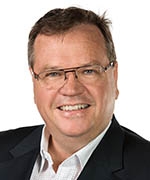 Chris Hocking is founder and director of Chris Hocking Strategies, providing PR and communications consulting services to the wealth management sector.
He was formerly head of corporate affairs at AM Corporation and subsequently PR manager at IOOF.
Chris is also a qualified financial planner and holds an advanced diploma in financial services as well as certifcates in marketing and SMSF Practice.
SUBSCRIBE TO THE IFA DAILY BULLETIN